Traditional and IP CCTV Systems
Our offered quotations are for complete solution. 
Market Trend: 
As compared to market package offers who give limited wire of 100 feet in their packages.
We offer all above mentioned devices brand new with official warranty.  We offer only Surveillance Grade Hard disks. (There is market trend of providing Used System Pulled Hard drives for CCTV Systems) which we STRONGLY discourage. 
We clearly mention in our quotes that what we are offering. There is wrong trend of advertising 2MP CCTV Solution, but in real providing 720P/1080N (2 MP- Native) resolution DVR with 2MP camera's. Which does not record in complete 2MP but 1.03 MP .
Same as above in such solution it's market trend nowadays to provide 4MP Supported XVR's rather than 4MP Capable XVR's, in such solutions 1080P DVR's are provided instead of 4MP.
FPS is Frame Rate Per Second, Regular good quality videos are usually at 25-30FPS. A CCTV video should record at least on 20 FPS.
Market Trend:
In low cost Solution offerings, recording time is increased by decreasing frame rates which ultimately cause degradation of video quality.
We only offer New Surveillance grade Hard Disks with 2 Year manufacturer warranty. 
Market Trend:
Another trick is applied in this case, 100% Health hard disk is offered which is in actual computer pulled branded hard drives. Cheap solution providers offer 320/500 GB  old computer hard disks which are not meant for CCTV systems hence compromise solution capability. 
We only offer New Surveillance grade Hard Disks with 2 Year manufacturer warranty. Our offered devices should be less than 1 year as printed on hard disk 
Market Trend:
As Used or branded Hard disks are offered those hard disk are usually 3 , 4 years old at least.
In our experience customers require continuous recording therefore we only design systems with continuous recording.    
Market Trend:
As Used / branded low capacity Hard disks are offered in packages therefore  recording is set on motion to gain more recording time. 
You can see in below computerized calculation, how much hard disk is required in comparison of 320 GB/ 500 GB offered packages.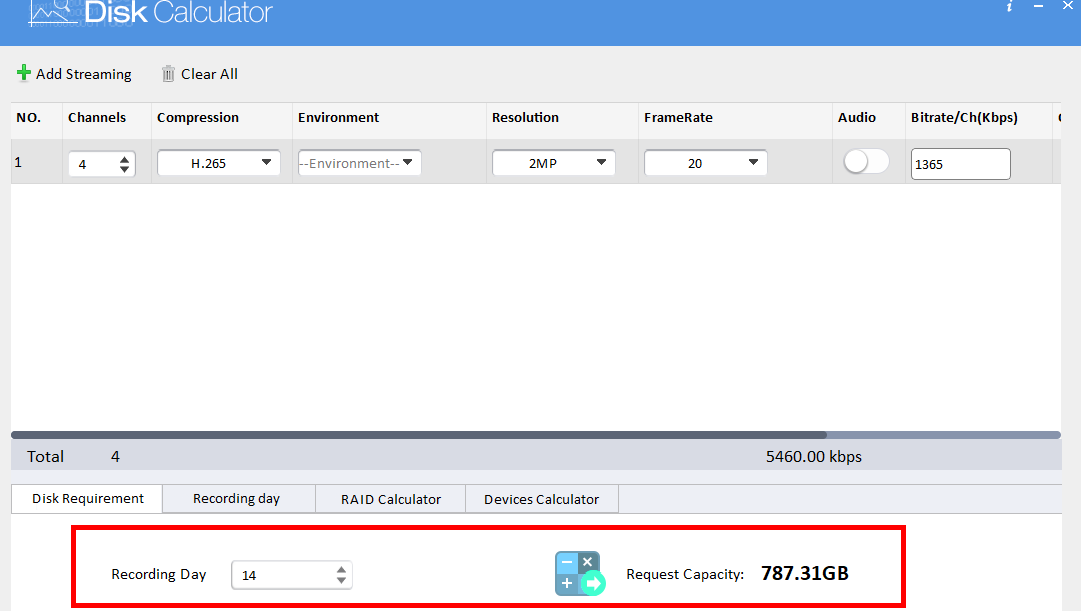 We offer 4O Meter IR camera's for optimum results during night wherever required.
Market Trend:
95 percent time to earn their own small  chunk of profit customer is not educated about  night vision capability and it's said "Sir ya he lgty hain".  Such 20 Meter camera's can only lit upto 30-40 feet in real.
We recommend one power supply 12 V 2A  per camera it helps camera's in night to operate it's IR efficiently. which is stored in Outdoor waterproof box.(Unless Client requirements or already laid CCTV Cable).
Market Trend:
To save money cheap solution providers offer only one power supply of 5A for 4 Channel and 10A supply for 8 Channel solutions.
In our offered solutions we provide waterproof boxes.  Extra cables or power supplies are  stored in it.
Market Trend:
To save money cheap solution providers does not provide outdoor boxes or if provided those are standard electric not waterproof boxes
In our offered solutions we offer both. For Small solutions upto 4-8 camera's we recommend both pure CCTV and RG6 + Power.  Before 2020 good quality CCTV cables were not available so our 99 percent systems were on RG6/7 + Power
Market Trend:
As they look for single power supply solution and saving of external box etc CCTV cable(limited length of 60-100 feet) is best choice of such vendors  
There can be many factors but foremost of all would be your are being offered a Chinese system(Tongher); (12 kV not approved or tested internationally) wifi based and with wire less keys. On paper this looks a very good deal but in depth it's a shady one (similar to those initial 4 sims chinese mobile phones). Accessories offered in these device does not comply with proper insulation and protection and may more.
Such systems are very young and new in market rather than Nemtek. Up till 2020 Nemtek has 95 percent market share.  Now small un educated vendors who does not follow international compliances are offering such deals to innocent customers. 
Yes we are Authorize Nemtek installers, you may visit check our authorization byclicking here.
We can provide you with Wifi and Automation modules. you can Arm Disarm or turn off a triggered siren with the help of mobile application.
Yes you can also Schedule your Electric Fence with our Wifi modules.
For Example your Electric Fence will activate automatically Activate  on  9:00 PM in night everyday and will deactivate it self on 8:00 AM sharp.  
Deter, Detect and Delay an Electric Fence can Detect, Deter and Delay and Intrusion. A high voltage shock combined with a physical barrier will deter anyone from attempting to penetrate the perimeter fence. The detecting ability of a Nemtek electric fence energizer will sound an alarm when the perimeter of the property being protected has been infiltrated or tampered with. 
 If someone tries to damage the fence wires by cutting or shorting, this triggers an alarm and can be used to warn the security guard or home owners of an attempted intrusion.
Nemtek Electric Fencing is 100% safe. The electric pulse in an electric fence is not constant; it is generated nearly every second. The duration of the shock pulse is very short and it does not affect the heart. This makes it non-lethal and safe for use.
The Electric Fence is legal. Hundreds and thousands of Electric Fencing System has been installed all around Pakistan and approved by authorities like DHA, CDA and LDA even in national level installations.
The Fence is powered by the Energizer (which works on 230-240 V AC converted into 12 V DC). Energizer powers the fence wires with DC Pulses with the interval of 1 second. The Energizer have a output voltage of 9KV DC in pulsating form which just push the intruder away from the fence and does not harm. The voltage can also be adjusted as per requirement
The height of electric fence is decided as per site requirement and area of application. The standard configuration for wall top electric fence is of 8 lines, 4 inches apart  (1.1 meter height above wall). Although we can customize the height as per application.
In accordance with the Code of Practice advised by manufacturer all systems are designed and installed to minimize the risk of accidental contact, with all ages and infirmity considered. The Impulses give a SHORT, SHARP but SAFE SHOCK
A typical arm system almost consume 40-50 Watts.
All our systems have standby power supplies. In the event of mains failure rechargeable batteries power the system upto 4-6 hours. If a longer period is required the size of standby power supplied can be increased.
All types of gates either swing or slide can be protected.  Special connected switches are available to keep fence arm while opening or closing of such gates.
The system will not harm them; they will be repelled and learn not to go near it.
If you touch the electric fence wires when it pulses you will be REPELLED.