Many clients in Pakistan need a video intercom for the extra privacy and security of their home. At i-solutions, we only use video intercoms from reliable brands and suppliers, like Panasonic, DAHUA and HIK Vision to ensure when someone's at the door, you'll know about it.
 You can see and talk with guests at the door before you give permission for their entry.  Intercom technology these days also allows you to store images of who pressed your door bell so you know who's been lurking around.
We have an option of traditional 4 Wire Video and IP intercom systems.
You may unlock your gate with a electric lock while staying inside home with all the devices
Intercom upgrade
If you already have an existing intercom system within your home, it's never too late to upgrade. With the growing capabilities of technology in this modern age, upgrading your intercom means you can link it directly to your smart home system and control everything from a single device. Upgrading for you might also mean going from audio to video, or from video to IP  to get the most out of your home intercom system.
Analog Intercom

IP intercom
Audio Intercom
This is your most basic intercom which you have most likely come across. The audio intercom allows you to speak with whoever or whatever is trying to gain entry to your premises without physically opening the door.
Video intercom
Video intercom allows you to see a live stream of whoever is at the door, on screen inside home. These devices have mic and VGA camera so you can hear and see who is trying to come in, allowing for no lapse in admission.

IP intercoms are the newest waves of intercoms hitting the market. You can place these wherever you wish on your premises. These are more expensive, but the added money buys you a far more versatile experience
This smart intercom can be integrated with your existing DAHUA camera system for added surveillance. You may watch your IP Camer's on it's indoor panel. It also allows you to control your front door through electronic locks, you can open it remotely through multiple indoor touch screens or through your mobile phone's app. As someone at the front door presses the button, your phone will ring and you will be able to talk directly to whoever it is through 2 way audio.. 

How it Works
The outdoor station is operated simply via a single button whilst the indoor monitor is operated by a touchscreen. The system supports remote unlock, missed/placed/received call details, visitor audio/video messaging etc.
System Includes:
1x 7" Touchscreen Indoor Monitor
1x IP Door Station with 1 Megapixel Camera
2x 12V DC Power Supplies
Integration
Not only this video intercom will show you with it's camera who is at the gate, this solution also has a capability to integrate your IP camera from the gate to show you outside main gate area on your touchscreen indoor monitor.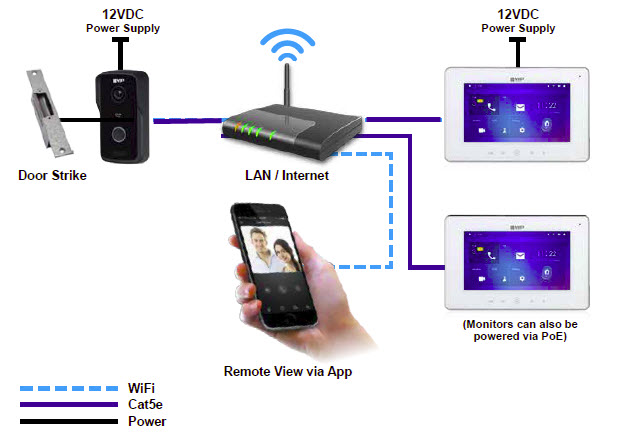 Call for Free Consultancy