Gate Automation
Our solution provides you with the convenience for gates to open without leaving the comfort of your car to save time and be secure from any unwanted guests at your gate. The kind of solution you may need, it depends on your property and the gate design which your architect has designed for your house. Our team, will guide you with best possible solution that will be reliable and aesthetically beautiful for your home. We will guide you through every step of the process of designing and choosing the best system to meet your needs and budget. All this can be designed and customized to get your ideal automatic gate set up.
What We are Offering
Introduce efficiency to your gate automation and access control with leading solutions by Centurion and King Gate Motors.
 Centurion for Sliding Gates
Centurion is a gate automation systems; South African company. The company's products are currently exported to over 70 countries worldwide and it is one of the most favorite brands in the world for gate automation and access control.
i-solutions is a leading installers for Centurion Systems products and solutions in Pakistan. You can order Centurion solutions at great prices from us, talk to our product experts today.
KINGgates for Swing Gates
Since 2006 KINGgates produces a professional range of automations for gates, garage doors, rolling shutters and barrier gates.
KINGgates improve the quality of life, simplify your daily life movements and offers the comfort of getting in and out in complete freedom, with practical products based on passionate design and through its own 100% made in Italy products.
i-solutions
is a leading installers for KINGgates in Pakistan. You can order King Gate solutions at great prices from us, talk to our product experts today.
Sliding Gate Motors

Swing Gates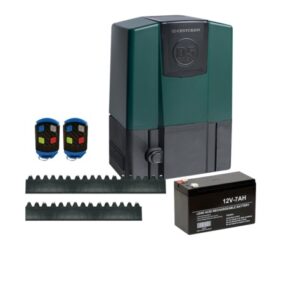 Centurion offers a range of sliding gate motors that provide the ultimate security and convenience for users. The brand offers sliding gate motors for light use residential gates as well as lightning-fast high-speed industrial sliding gate motors that can move a gate weighing up to 2000kg.
Centurion D5 EVo / Smart Sliding Gate Operator
Manage your gates in a safe, secure, and convenient way with the intelligent Centurion D5 Smart. It is a fast and reliable sliding gate motor that offers easy mobile-based setup and operation.
Key Features
Offers reliable battery backup during power failures and outages
Capable of operating gates at a remarkable speed of 60 cm/sec
Easy to install and operate from the convenience of your smartphone
Provides wireless and effortless operation with advanced diagnostic feedback.
 Centurion D5 Smart is an intelligent sliding gate operator engineered exclusively for domestic and light industrial applications. It is capable of moving gates weighing up to 500kg at a reliable speed of 36m/min and 17kgf push force. It features a revolutionary design and SMART-technology-backed hardware components for intelligent logging and effortless wireless operation.
Plus, the body has an IP-55 rated construction, built to protect the gear motor from dust, moisture, and other related environmental factors. Contact i-solutions today to buy this product or to learn more about it from our sales expert. 
Fast, Powerful & Intelligent Motors for All Types of Swing Gates
Make your life more easy and comfortable with our powerful swing gate motors. Featuring a modern design, all are designed to introduce safe and fast swing gate automation in your facility.

Introducing the Most Reliable & Redefining Swing Gate Motors
Forget the inconvenience of opening and closing the gate manually with our intelligent swing gate motors. They are designed and engineered to make your life more comfortable by automating the movement of all kinds of swing gates.
Be it residential, commercial, or industrial swing gate, our powerful motors are capable of controlling and operating them all conveniently. Tested in the most extreme living and working conditions, our swing gate operators are built to offer the best work cycle, gate speed, and performance to meet all of your automation & security needs.
All the swing gate automation solutions are brought to you exclusively by i-solutions. We are the premium distributor of KingGates  domestic and industrial swing gate motors/operators in Pakistan.
Protect your Facility with Our Swing Gate Automation Solutions
Gate Motors for Domestic Swing Gates  - Ranging 400 Kg's to 600 kg Gate Leaf
Now no more to get up and open your swing gate manually with our smart domestic swing gate motors. Engineered by keeping every security factor in mind, they deliver remarkable performance and keep your property safe from potential threats & hazards.
Easy to install


Can easily be controlled from a smartphone app and remote control
Modern design
Reliable battery backup
Compatible with all kinds of domestic swing gates
Gate Motors for Industrial Swing Gates
Designed for intensive use, our industrial swing gates are ideal for automating large, heavy-duty swing gates in commercial and industrial facilities. They come with a built-in control unit, magnetic encoder, and capable of keeping your facility safe & secure all the time.
Compatible with all types of swing gates
Saves time by offering fast and reliable performance
Features modern, sleek design
Reliable battery backup
Easy to install and simple to use
Safe Operation Guaranteed with Obstacle Detection Technology
Don't worry if your kid, pet, or staff member gets in the way during the gate operation. Our swing gate motors are backed by intelligent obstacle detection technology that immediately stops the gate operation when someone accidentally gets in the way.
·        Easy to Install & Simple to Use
Depending on the installation and security requirement, you can select any type of swing gate motor and secure your facility. All are easy to install, don't demand regular maintenance, and super convenient for users of all age groups
Call for Free Consultancy